McHale displayed a wide range of machinery at Agritechnica in Hanover, Germany in November 2017. Agritechnica is now the world's leading trade fair for agricultural machinery and equipment. Innovations in agricultural machinery and equipment and the latest solutions and concepts for the future of plant production are presented every two years at the show in Hanover, Germany. More than 2,900 exhibitors from 52 countries exhibited agricultural machinery for professional plant production. Over seven days 458,000 expert visitors from 130 countries came to the fair, including 110,000 international visitors. McHale was situated in Hall 27 alongside other big brand names such as Krone, Pottinger and Schuitemaker to name but a few.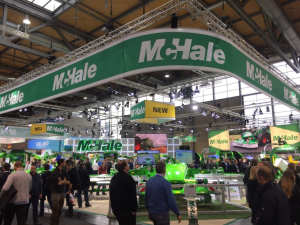 A number of products were launched at the show to the world market which is held every two years and attracts a wide range of visitors over seven days from all over the world. The new McHale Twin Rotor Centre Delivery Rake range was displayed for the first time to the world market along with the new McHale 998 High Speed Square Bale Wrapper and the McHale ProGlide B9000 Combination Mowers with Hydraulic Width Adjustment. All products attracted a great interest for visitors to the stand in Hall 27. Click here to read more about these new products.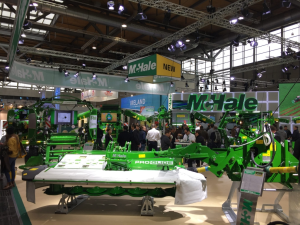 The McHale stand at Agritechnica became home to a wide range of grassline machinery for the week long event. All machines in the Fusion Integrated Baler Wrapper Range were on display which included the McHale Fusion 3, the McHale Fusion 3 Plus which uses Film-on-Film Technology and the McHale Fusion Vario  with its new full width single belt. The McHale V660 and V640 Variable Chamber Balers were also on display along side the McHale F5500 Fixed Chamber Baler and the McHale F5600 Plus Film Binding Baler. A variety of round and square bale wrappers were on display at the McHale stand but the new McHale 998 High Speed Square Bale Wrapper gained great interest from the public. The full McHale ProGlide Mower range was on display which includes the F3100 Front Mower, the R3100 Rear Mower and the B9000 Combination Mower. The B9000 combination mower was launched to the market with Hydraulic Width Adjustment which attracted a lot of interest from farmers and contractors visiting the stand.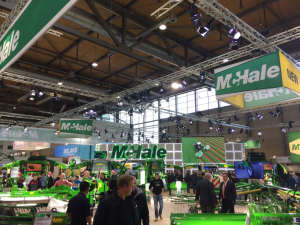 Overall, McHale showcased one of their biggest displays of machinery to date and would like to thank everyone who visited the stand throughout the week long show.