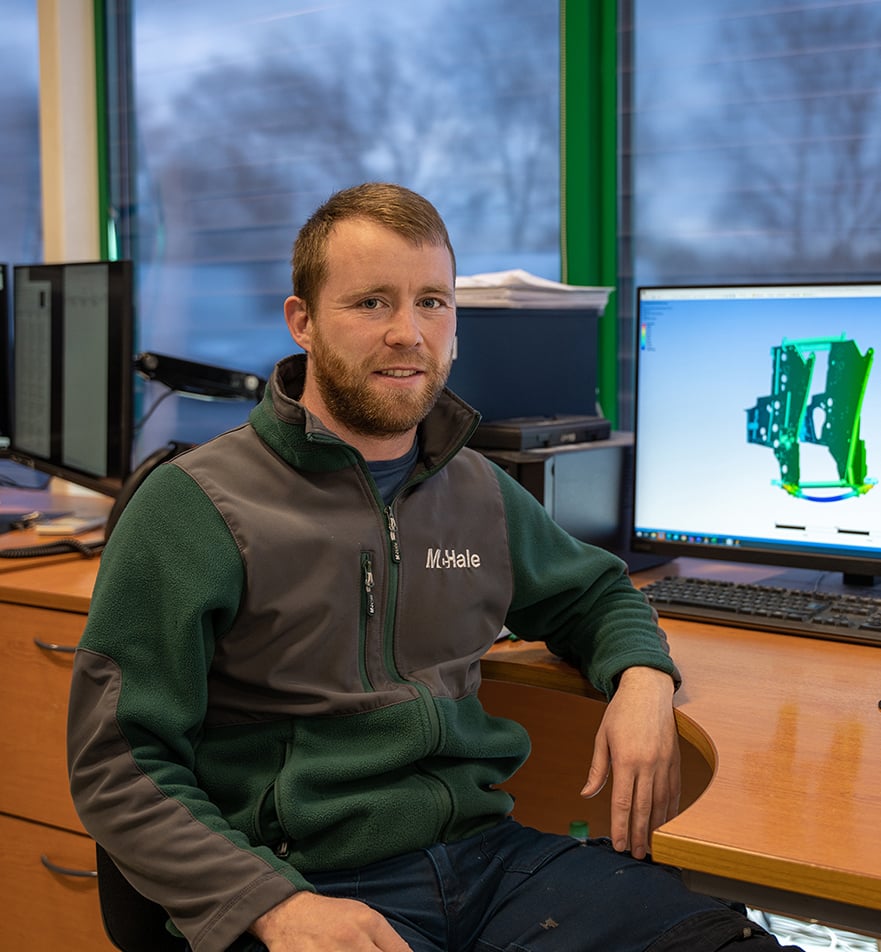 When did you start at McHale?
In 2013, as part of my Mechanical Engineering Degree, I completed three months' work experience in McHale for the summer. I then went back to college to complete my honours level degree in Mechanical Engineering. My final year thesis was based on the design of a test rig for testing the impact force of the safety arms on three different McHale products. On completion of my degree, in June 2014, I started full time with McHale engineering.

I started on the Fusion assembly line, where I progressed well, got great experience and in February 2015 I was promoted to the R&D department. My first job in the R&D department was the assembly of the first ten McHale Orbital wrappers. Following this I moved into the office where I started doing design changes using Creo and ANSYS software

What does your job entail?
As a design Engineer I am involved in 3D component design using Creo Parametric software. I also do stress analysis's using Ansys software. I am also involved in prototyping and field testing of new products and upgrading the functionality on existing products. Other tasks my role would require me to do is creating and updating documentation, product planning, component sourcing, supplier liaison, new product quality inspections and creating procedures
What is your typical day like?
I spend most of my day doing design changes of existing parts or creating new parts using Creo Parametric. I use ANSYS software to do stress analysis on existing and new products. I can also spend some time each day in the welding area or production line if I am working on a change or new product that is being implanted into production. In the summer months, I would spend time doing field testing.  
What is your favourite parts of the job?
I enjoy the fact that I can be working on any product across the range. I do most of the stress analysis in the R&D department therefore I can be involved in almost every project that the other engineers are working on. This means most days are different for me and different challenges can arise every day.
In the past year, I have been heavily involved in the design of the Fusion 4 panels and have gained some knowledge in thermoforming and plastics. I had not worked on any panel designs previously in McHale's, so it was a learning curve for me and something different. I had plenty of guidance from other engineers here so while the project was challenging for me I felt there was always a team of people that where willing to share their knowledge and help in any way they could. I really enjoy working as a team and I am looking forward to learning more in the line of thermoforming and plastics.
What are the greatest challenges in your job?
Prioritizing my work on a daily and weekly basis can be challenging because I can be involved in a wide range of projects with different engineers. The workload can sometimes build up quiet quickly, trying to prioritize what is the most important job to complete first can sometimes be challenging.
Do you like your job?
After almost 9 years, I have to say I do. Each day new challenges arise, and new problems need to be solved. There is a great team of people working for McHale and if I am ever stuck for a solution to any problem there is plenty of experienced and knowledgeable people throughout each department that are willing to help.