At this year's FTMTA Grass & Muck on May 17th in Gurteen, Co. Tipperary, McHale will be demonstrating a full range of machinery, giving new and existing customers the chance to experience McHale high output machines in action. Forefront to the McHale demonstration will be the recent development and expansion into the twin rotor centre delivery rake range. Having launched the McHale R62-72 and the McHale R68-78 last year, the FTMTA Grass & Muck demonstration will be the first time the McHale rakes will be demonstrated in Ireland.
Also new to Irish customers is the McHale ProGlide B9000 with Hydraulic Width Adjustment. The butterfly rear mowers now come with a hydraulic width adjustment as an option. The operator can hydraulically adjust the working width to help the mower achieve optimum cutting performance in hilly or undulating conditions.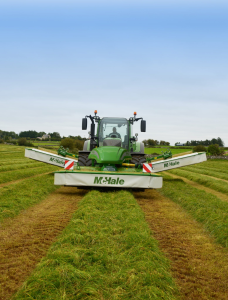 Since the last FTMTA Grassland event, McHale F5, V6 and Fusion Balers all feature a new pick-up which has a number of new features which include;
Larger feed augers
A larger diameter rotor
A flexible floor
A camless pick-up option
When combined these features deliver higher output and better reliability in all conditions but greatly improves machine performance in uneven lumpy swaths and heavy and light rows.
McHale have introduced a number of new changes to the Fusion 3 Plus, mainly in the area of bale quality with a bale weighing, bale density and bale moisture content recording option available. This will allow customers to ensure their bales are of maximum quality. Two customisable cameras are now provided as standard on new Fusion 3 Plus machines, which allow for the operator to choose their preferred view of the NRF/Netter camera and the bale transfer and wrapping camera.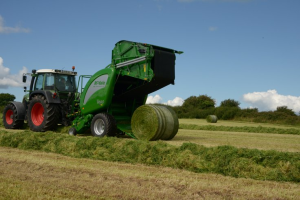 McHale report that in its main markets some customers are using variable chamber machines for silage. As a result, McHale have developed a single belt option which leads to better belt tracking and less crop loss. This full width single endless belt is standard on all McHale Fusion Vario machines and is available as an option on all V6 variable chamber balers. The V6 Variable Range of balers also features a new high performance hydraulic stretch netter unit and a new Expert Plus 3 Control Box which delivers better features and usability.
The McHale Orbital High Speed Round Bale Wrapper now comes with a work lamp for late night working and external controls to aid the wrap loading process. Machine speed has also increased to deliver higher output.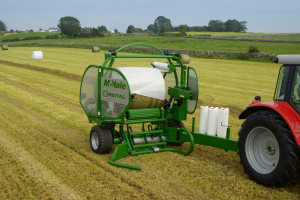 In their square bale wrapping range, McHale have will show its new McHale 998 High Speed which can operate at approximately 35 rpm in High Speed Wrapping Mode. This has the ability to deliver up to 40% more output over a standard 998.
McHale will also demonstrate its new film binding baler the F5600 Plus. The machine has the ability to eliminate the need for net wrap and binds the bale with film in the bale chamber. This film forms part of the wrapping layer to provide a number of advantages;
Chamber Film Acts As A Wrapping Layer
Chamber Film Results In Better Shaped Bales
Chamber Film Delivers Higher Quality Silage
Chamber Film Makes Recycling Easier
McHale will have a full range of machines on display on Stand 112 at Grass & Muck. Other machines being showcased at the event include the McHale F5500 Fixed Chamber Baler, a variety of round bale wrappers including the McHale W2020 High Speed Round Bale Stacking Wrapper and their C4 Straw Blower & Silage Feeder Range along with many bale handling and splitting implements.
Take a look at the clip below to see what is on offer at FTMTA Grass & Muck.