The McHale Fusion 3 Plus has been operating in New Zealand for two seasons now. McHale is a world leader in the baler and wrapper market with machines operating in over fifty countries around the world. The McHale Fusion is the market leader in the New Zealand baler wrapper market. This fourteenth Scania Golden Griffin was given the duty of transporting the last load of this year containing McHale Fusion 3 Plus machines to New Zealand.
The McHale Fusion 3 Plus is an innovative machine which offers the farmer or contractor a Film-on-Film application system whereby film is applied to the barrel of the bale instead of traditional methods such as net wrap.
This system offers the following advantages;
Chamber Film Acts As A Wrapping Layer
Chamber Film Results In Better Shaped Bales
Chamber Film Delivers Higher Quality Silage
Chamber Film Makes Feeding/Recycling Easier
The McHale Fusion 3 Plus has won numerous innovation awards around the world. In February, it picked up an award at FIMA Agricola in Spain. More success came in June and July for the McHale Fusion 3 Plus as it claimed awards at the Royal Highland Show, Royal Welsh Show and Cereals 2014 in the UK. In the last three weeks, the McHale Fusion 3 has also picked up two awards in Poland and one the Czech Republic.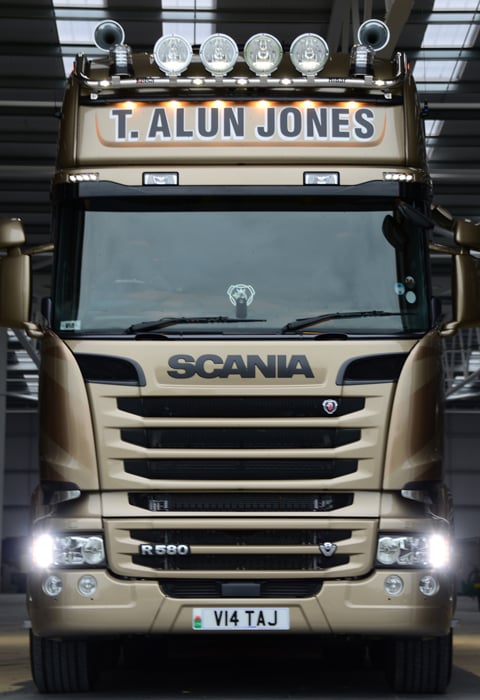 The Golden Griffin
Scania are celebrating 50 years in the UK this year so to mark its Golden Jubilee they have manufactured a Limited Edition of 50 uniquely-numbered flagship trucks called the Golden Griffin. These V8 tractor units of which only 50 examples will be produced are instantly recognisable by their striking gold colour.
Haulage Company, T. Alun Jones recently purchased number 14 of the 50 limited edition trucks. The number 14 truck of the 50 made was chosen because it being the year the Golden Griffin was launched and the new truck has its own personalised (V14 TAJ) 14 plate. These Scania Golden Griffin trucks are fitted with Scania's luxury Griffin pack as standard as well as a wide array of home comforts from a kitchenette to a TV/DVD player. All of this is accompanied by three luxury Scania packages which include Black Leather V8, Prestige and Driver thereby assuring the owner and driver the ultimate in terms of
specification, comfort and safety.
A wide range of active and passive safety features, including Lane Departure Warning, Adaptive Cruise Control and Advanced Emergency Braking will also be fitted, and each truck features a state-of-the-art entertainment system.
Paul Tannant departed the McHale factory in Ballinrobe, Co. Mayo with three McHale Fusion 3 Plus machines on board, the last machines destined for New Zealand this year, starting their 18,934km journey.